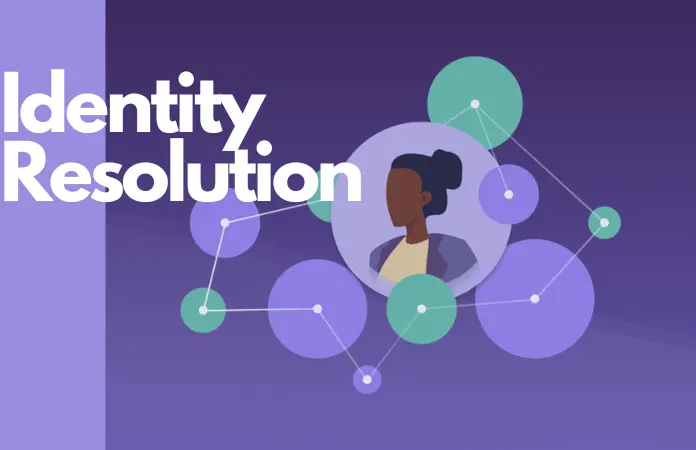 The critical ingredient for delivering a top-of-class customer experience is the ability to uniquely recognize individuals across multiple platforms. But it's not easy as it's said, the number of platforms/channels customers use is increasing drastically. And we're not just talking about online platforms, but offline as well. So, how are we going to maintain a unified identity for each and every customer? The answer is "identity resolution".
In this article, we are going to learn everything about identity resolution like its importance, why we need it, challenges, examples, and much more. So let's delve into the blog.
What is Identity Resolution?
Since we are going to throw the term "Identity resolution" a lot in here, let's first understand it thoroughly.
Identity resolution is the methodology of gathering data on how a person is interacting with your business across various platforms, channels, devices, touchpoints, etc to build a unified 360° customer profile.
This unified customer profile is more popularly known as the "Single view of the customer". And it is achieved by identifying a customer and then merging all data to develop a holistic definition.
The Identity Resolution Process
Behind-the-scenes work varies based on the different identity resolution vendors, but there are some fundamentals that everyone follows.
Data Collection: It simply means collecting all the customer data from all sources available like CRM, Marketing automation platforms, etc. Not only this, but you also have to consider all offline sources, so information is left behind.
Resolution: Once you finish collecting data and it's under one roof, which could be a CDP (Customer Data Platform) and an identity resolution vendor, the next steps is data deduplication, hashing, and data suppression. These steps are essential to building a Single View of a Customer. And the best thing is these unique individual profiles are dynamic i.e. they keep updating according to the customer's use of device, browser, and other interactions.
Identity Graph: An identity graph is a collection of all identifiers of a unique customer. Here, by identifiers, we mean email addresses, login data, IP addresses, device IDs, and even offline data like transactions, etc. Some of this data is first-party and some are from external sources. An identity graph is critical to enhancing the personalized customer profile that we created earlier.
Initiate personalized marketing campaigns: In this cookieless marketing landscape, you have customer footprints, you know when to act and how to act, and it's time to get some ROI. For example, you can connect this 360° customer profile with an advertising platform like Google Ads to run personalized and targeted campaigns.
Data privacy compliance: The use of customer data also means you need to be compliant with data privacy laws like GDPR (General Data Protection Regulation) and California Consumer Privacy Act (CCPA). The definition of personal information can change with the geographic location or industry. For example, according to the EU's GDPR, personal data is defined as "any information which is related to an identified or identifiable natural person. The data subjects are identifiable if they can be directly or indirectly identified, especially by reference to an identifier such as a name, an identification number, location data, an online identifier, or one of several special characteristics, which express the physical, physiological, genetic, mental, commercial, cultural or social identity of these natural persons."
Real-life Use Cases of Identity Resolution
1. Improve eCommerce Conversion Rate
With identity resolution, you can recognize individual customers while they are hovering on your website or eCommerce platform. Once you can learn which products they seem most interested in, you'll be able to engage with them based on the interaction they have done. Furthermore, you can build personalized content for them using historical data.
What if it's a new customer and never interacted with your business before? In this scenario, the third-party data will save the day. Recall, we said identity resolution also uses identifiers from the public domain like surveys, Voter registration, Motor vehicle records, cookie and IP data, device data, mobile advertising IDs, etc for enriching customer profiles.
For instance, let's say a new visitor comes to your website and its transaction data and advertising IDs suggest the person is likely to purchase a smartwatch. Now, the guesswork is out of the equation and you already know, you've to promote smartwatches here.
According to research conducted by Salesforce, 76% of consumers believe brands should understand their needs. And identity resolution assists you in catering to this customer's belief through personalized content.
2. Increase customer retention
Customers choose to return and make purchases if they are getting a personalized customer experience and relevant offers. Studies have suggested that businesses that managed to deliver this lose their customer just after one bad experience.
Identity resolution gives you the ability to better understand the customer and thoroughly. It provides us with a unified view of the customer so we can make a data-driven decision and recommend to customers what is best for them. This makes customers feel valuable and prioritized and eventually they return to purchase more.
Let's understand with an example:
Suppose you have a website for health and skin care products and James bought a bottle of shampoo from there. And now, the next time James visits the website, it doesn't make sense to show him shampoo again. Instead, you should use other related items like conditioner, face wash, hair mask, etc. Or if it's been 2 to 3 months since he bought the shampoo then you can send them a personalized email comprising an offer on the same shampoo.
You see, in order to achieve this, how identity resolution helped in many ways.
First off, whenever James visits you will know because you have a unique identifier for him.
Second, the shampoo transaction data will be coupled with the existing profile to keep it updated in real-time. With this, you can decide your next step.
IR resolution gives you insight into when to interact and how to interact.
And that's how you will be able to retain the customer and increase the customer's lifetime value (CLV) as well.
3. Save ad spending
Hit and trial was never an effective strategy, especially for marketing purposes. Spending on targeted ads with no proper customer segmentation and the inability to learn about audience intent is a total waste of capital. The chances are you will be approaching the wrong person at the wrong time.
On top of that, you may have duplicate data based on which you will be targeting the same person just via different channels. Identity resolution troubleshoot this issue by unifying the data from multiple platforms, devices, and channels and creating a single view for each customer.
Now you have a unique profile for each customer, you won't be targeting a single customer multiple times. You will also have updated interaction data which means you can come up with the best marketing strategy suited for every customer segment.
Again, let's have a look at the example to get a clear picture.
Suppose you have a real estate agency and for tracking your customer data you are using CRM (Customer Relationship Management) software. Now after using this data for creating identity graphs you can find out a few valuable things:
The persons who are relocating and maybe finding new places.
The people who are expecting a baby and looking for a bigger house with a room for toddlers.
Or you can segment customers based on their spending power.
For instance, Riri Williams just moved into the city for college, you run ads here showing affordable apartments within the city. On the other hand, if a couple just got married, you can show them ads for suburban houses with decent mortgages.
Since Identity resolution consolidates other platforms' data as well, you don't need to worry about the fact that you only have Riri's name and email address. Identity graphs incorporate data on how often a customer was checking the news or weather in particular areas.
So the next time Riri opens the weather website, you can show her ads for the apartments. And this will make sure your efforts don't go in vain.
Why do we need Identity resolution?
From the above discussion, it's clear that identity resolution does a great job of understanding customers. It not only unifies data but also eliminates duplicates and tells us what should be our next step of engagement. These reasons are alone more than enough to understand the importance of identity resolution. But we would like to add a few more things.
For example customer data privacy and depreciation of third-party cookies. Right now, advertising companies use third-party cookies to track the users' activities so that they can run target ads campaigns. But sometime later now, it will not be possible. Allow us to elaborate on both topics.
1. Better Privacy Management
Data privacy is a rising concern for the people and official authorities. Acknowledging this, governments have taken initiative and introduced privacy policies like CCPA and GDPR. This empowered consumers to know how their information is going to be used and shared. In addition, they have the right to get their personal information deleted from companies' servers.
But it doesn't mean customers are not willing to share their data with companies, on the contrary, 83% of consumers are willing to share the data but only if they get a personalized experience. This means customers understand it's a two-way road and identity resolution is the technology that will ride both companies and consumers in the right direction.
To provide a personalized experience, companies need to know about every touchpoint of customers and create a unified profile.
Consumers are also benefiting from this. For example, if a customer opts for the right to be forgotten then as you know companies are legally obliged to do so. Companies with a single source of data can quickly identify and delete the data, on the other hand, businesses without identity resolution will have scattered, siloed, and unstructured data – and wiping it will be a hectic task.
2. Ban of third-party cookies
As you may know, Apple has already announced that their Safari browser will no longer use third-party cookies to track the user's activities across devices and browsers. And now Google is following in Apple's footsteps too.
Before, marketers were using these cookies to understand the behavior and engagement patterns of the customer. These cookies are used to tell marketers what a user is doing online like window shopping and based on this, they are used to prepare the targeted marketing strategy. But now they are in a state of not knowing what to do.
Since third-party cookies will be banned, Identity resolution is supposed to be paradigm-shifting technology for tracking customers. Now, marketers need to create a persistent identity for customer-centric omnichannel marketing.
3. Boost to the demand for personalized CX (Customer Experience)
Both strict privacy policy and depreciation of third-party cookies may force a pivot towards a more transparent way to provide personalized CX. It also lets us to the conclusion that consumers are not annoyed by ads as long as they are relevant to their needs.
Up until now, identify resolution is the only technology that satisfies both domains i.e. consumers and brands. Consumers are getting personalized recommendations without compromising their data privacy. It's a win-win situation.
How Does Identity Resolution solve the Marketer's Problem?
Marketers always lack software that is capable of painting the complete story of their customers and it's a fact! Up until now, the technology was not sophisticated enough to identify the customer journey and their interaction with the brand. Due to this, companies were not able to engage with the audience with the right message. This problem of not having an absolute customer segmentation was dreadful for marketers for a long period of time. But it's changing now slowly but surely.
Here, the root cause seems to be the inability to provide a personalized customer experience. To overcome this, you first need to segment your customer base. This is possible only if you identify each customer based on their unique characteristics, behavior, and journey.
Let's see how identity resolution fits in this picture.
Identity resolution is the technology that collects the disparate data of customers to create a "True Single View of Customer". A true unique identity for a customer will be attained after matching cross-device, platform, and channel for that individual.
The need for ID resolution becomes more severe knowing the third-party cookies will depreciate soon enough. Even more, the device complexity is increasing, the digital landscape is changing, the market is becoming more customer-centric, and demand for seamless and personalized customer experience are some of the few reasons to prioritize identity resolution.
These are the challenges a marketer needs to face when trying to provide a personalized customer experience to a customer.
Scarcity of customer information: From a perspective of a digital setup, a customer is nothing more than a number or ID. It doesn't tell about the priorities of customers or how they reach the final decision.
Fragmented Identities: In today's era, a person engages with a company by means of various channels and touchpoints. Furthermore, they even use multiple devices across multiple platforms. Binding all these digital footprints into a unified identity, so a business can recognize them is not a trivial task.
Campaigns based on Guesswork: Right now, how a business runs a marketing campaign? They just know about customers' names and email addresses and the rest of the work is a mere guess. This happens because of data silos and a lack of characteristics in the buyer's persona.
What's Next?
There are plenty of CDP (Customer Data Platforms) that work on the identity resolution models, for example, Twilio Segment. The use of a CDP is one of the recommendations to improve the customer engagement rate.